What is freight consolidation?

Freight consolidation is where suppliers have goods delivered directly to a consolidation centre on the outskirts of a city, and combine those goods into a single fuller load for the onward journey to the delivery point.
Freight consolidation is a way of removing freight related vehicles from our roads. This helps to reduce the negative impacts associated with heavy traffic, which are often experienced most by people living in areas of deprivation.
How does this improve air quality in Bristol?
Freight consolidation improves air quality due to there being fewer petrol/diesel vehicle trips in the centre. There is also more potential for the last leg of the journey to be completed by a low- or no-emission vehicle such as an electric van or a pedal bike.
Other benefits for Bristol include:
a reduction in the number of freight vehicles moving through the city, improving congestion
a reduction in noise pollution caused by passing vehicles
less wear and tear on road surfaces
improved safety for vulnerable road users like pedestrians and cyclists.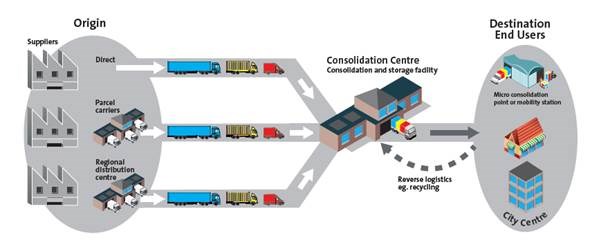 What does freight consolidation mean for businesses?
Since 2004, businesses in Bristol and Bath have been using freight consolidation to manage their deliveries more effectively, save staff time and optimise storage space.
Freight consolidation offers benefits for businesses, such as:
cost savings from being able to bulk buy or buy collectively
more control over the quantity and timing of deliveries
ease of delivery on narrow or restricted streets
improved environmental credentials
the ability to send packing materials back in the return load for recycling
more efficient and sustainable movement of freight within the city
Delivery is made as agreed which can be at a time of the business's choosing, as a regular schedule or as a next day delivery.

How is Bristol City Council supporting freight consolidation?
At its peak, a 70% to 80% reduction in the number of onward trips was seen by the freight consolidation scheme subsidised by Bristol City Council to serve the central area between 2004 and 2018. This meant that for every 10 vehicles that made a delivery to the consolidation centre, just two or three onward journeys to the central area were made.
We want to keep reducing the number of heavy goods vehicles entering the city and encourage onward journeys to be taken by zero-emission vehicles. This will help us improve air quality and contribute to our goal of becoming carbon neutral by 2030.
As part of our One City Plan, we are aiming for 95% of deliveries within the city centre to be made by electric freight vehicles within the next decade, with consolidation centres at all our main access routes.

About the zero emission freight consolidation grant
In February 2020, the application process began for a £100k grant from Go Ultra Low West, a £7m transport project that provides the infrastructure for large scale conversion to electric and ultra-low emission vehicles in the West of England.
This grant will be spent over a 12-month period and used to set up and run a zero emission freight consolidation centre, or support an existing initiative with the same goal. A zero emission vehicle is one that produces no greenhouse gases or air pollutant tailpipe emissions, such as electric cars, electric lorries, electric vans, electric scooters, electrically assisted trailers, electrically assisted pedal cycles, and bicycles.
This project will:
raise the profile of electric vehicles in Bristol
provide a best practice example of freight consolidation
adopt an innovative approach to zero emission freight consolidation.
The outcome of the grant should be a reduction in the number of heavy-goods vehicles entering the city by consolidating deliveries using a more sustainable approach, such as EV vans or electric cycles – this will help to improve air quality in Bristol.
The grant application period was paused in early March due to the impact of Covid on the freight industry. Following discussions with internal and external stakeholders the grant application period has now reopened.

How to apply
The application period is now reopen with a final deadline for applications of 19/08/2020 12:00hrs (noon).
You can apply here

For more information about freight consolidation, please contact the council's Transport Team on air.quality@bristol.gov.uk