What is Bristol City Council doing about it?
Bristol has been successful at improving walking, cycling and bus patronage in recent years, but traffic levels have remained stubbornly constant as the chart below shows.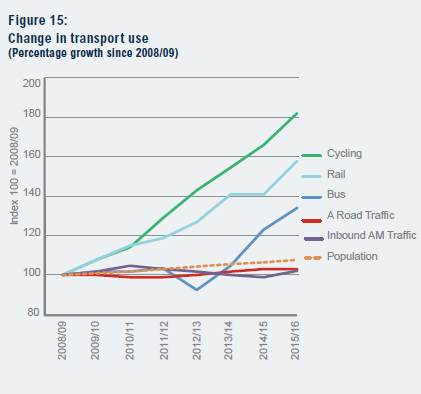 Vehicle pollution has not declined as predicted, mainly because of an increased proportion of diesels in the fleet and the poor performance of those diesels compared to their emissions standards.
Bristol has worked with bus operators to clean up the bus fleet. Bristol was recently awarded £2.2m for cleaning up buses in the regional fleet. BCC also ensures its own fleet of vehicles is clean, by using electric pool cars, some electric vans, some other ultra-low emission vehicles (ULEVs) and providing training for drivers. We are working with providers to increase the number of EV charge points and the Metrobus programme will enable residents to leave the car at home and use a clean, high quality rapid transit service.
Bristol has also planted 50,000 trees. It is possible these will have a small positive impact on air quality but it is likely this will be too small to measure.
Other transport interventions that will improve air quality are listed below.
The MetroWest project will improve existing rail provision across the sub-region, including the opening of new stations and increased frequency on local lines.
Large-scale investment in walking and cycling through the Cycle Ambition Fund which is creating new routes and improving existing infrastructure.
MetroBus, a rapid public transport system that will provide an express service to key destinations in the area using a combination of segregated busways and lanes, will use low emission vehicles.
Ensuring the council fleet vehicles are modernised to reduce pollution by replacing out of date diesel vehicles. This being supported by a £7 million project to provide over 200 more public and business charging points across the city region. It will also enable people to buy new electric cars with confidence that they can charge them.
Increasing the proportion of electric pool cars available for council employees to use on city trips.
Changes to Taxi Licencing Policy to improve taxi fleet emissions.
However these actions are not sufficient to bring the city to legal compliance. For this reason there is a legal obligation to look at developing a Clean Air Zone for Bristol.
What's in Bristol's Clean Air Plan?
Bristol is developing a plan in line with government guidance (the treasury "green book") in three stages. The three stages are business cases that must be approved by both BCC and the Joint Air Quality Unit (JAQU). The first business case (Strategic Outline Case or SOC) was approved by BCC and JAQU in March 2018. The key documents are available for download. The SOC recommended five packages of measures to take forward for further study. The packages of measures are:
• Option 1 – package of 16 complementary measures
• Option 2 – Medium CAZ (C) with 12 complementary measures
• Option 3 – Medium CAZ (D) with 11 complementary interventions
• Option 4 – Small CAZ (C) with 12 complementary measures
• Option 5 – Small CAZ (D) with 11 complementary measures
Four of the options include a "charging" CAZ. Class C is all vehicles excluding cars, Class D is all vehicles. No decision has been taken on which option will be implemented as this is what the technical work will determine.

The complementary measures in option 1 are listed below. Some of these are included in options 2 – 5 too.
1. Development of new and / or improved cycle paths to encourage more active travel
2. Introduction and enforcement of anti‐idling zones for buses in the city centre
3. Increased Euro Standard requirements for taxis and private hire vehicles in licensing policy
4. Provision of retrofit grants for taxi, private hire and LGV drivers
5. Enforcement of mandatory compliance for buses, taxis and private hire vehicles for bus lanes
6. Introduction of variable parking tariffs in the Council owned car parks to discourage polluting
7. vehicles and / or incentivise take up of electric vehicles
8. Traffic management measures to relocate queues on Newfoundland Way southbound to M32 north of Junction 2
9. Retrofitting of Council and privately‐owned waste vehicles
10. Expansion of Car Club to areas of the City with high level of 'uncompliant' vehicles
11. Optimisation of traffic signal timings across the city
12. Introduction of further Bus Priority Schemes
13. Introduction of subsidised (e.g. free) bus travel for certain demographic or income groups
14. Restrictions on goods vehicles movements in City Centre and / or AQMA during peak hours
15. Targeted traffic management measures on Rupert Street and Bedminster Down Road
16. Soft traffic gating, including real time traffic management system, across the City
17. Prohibition of diesel cars from polluted parts of the city
These packages will be assessed in terms of their effectiveness to deliver compliance quickly and other aspects such as impact on low income households, public health, impact on business, displacement of traffic etc.
This technical work will then feed into the next business case the OBC (Outline Business Case). We aim to submit the OBC in late 2018.
When we submit the OBC it will recommend a "preferred scheme". At this point we will also submit bids to the government to implement the scheme and to fund mitigation measures that will reduce the impact of the chosen scheme on specific groups. These groups and the mitigation will be determined through the ongoing technical work and our engagement activity.
Once the OBC is approved, we will then study the preferred scheme in even more detail, consult on the scheme and further develop our initial bids to government to fund the scheme and mitigation measures. We will also begin to procure the necessary infrastructure and systems.
The Final Business Case (FBC) will present a fully costed and assessed preferred scheme with funding confirmed and consultation completed. When it is approved, we will proceed with procuring and delivering the scheme or package of measures during 2019 and 2020.