Bristol's Clean Air Zone has launched this week, marking a key moment in our journey to cleaner air for the city.
Schools in Bristol, including those that are within or on the edge of the zone, are looking forward to breathing cleaner air.
Back in October, we visited primary schools to talk about air pollution and what young people can do to help keep our air clean – you can read more about this in our previous blog post. We invited these schools to take part in an artwork competition to spread the word to others.
Children were asked to create a piece of art that showed what clean air means to them and we were blown away by the 250 entries that we received.
We're pleased to present some of our favourite submissions as well as the winner and runner up of the competition, chosen by Councillor Don Alexander, Cabinet Member for Transport.
And the winner is….
Leo from Holy Cross RC Primary School, Southville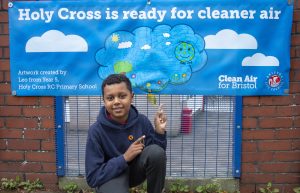 Don loved the colours in Leo's design and how it was simple yet effective. Leo, who walks to school every day, was really excited to be named the winner of the competition.
And the runner-up is….
Aisha from Barton Hill Academy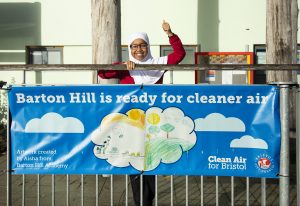 Don chose Aisha's design to be runner-up as he loved the contrast between the two sides of the design. Her piece of art shows us what a difference clean air can make.
Here's some more of the submissions that were shortlisted by the judges.
Inspired? Here's what you can do to help.
Choosing to walk, scoot, or cycle to school can make a big difference to your health while also helping to reduce air pollution at the school gates.
Kids who include physical activity in their daily lives are more likely to be active in adult life. It's also just a great way to start the day and get them ready for a day in the classroom.
Through School Streets, we're making the journey to school safer and healthier for children and their families by restricting vehicle access outside school gates during drop off and pick up times.
You don't need to commit to leaving the car at home every day, just one or two days a week can make a big difference.
Take a look at the Travelwest website for more tips, tricks and advice to help you with the school run.