With the Clean Air Zone launch fast approaching on Monday 28 November, our team of travel advisors have been busy visiting communities across Bristol to help raise awareness.
Since April this year we've held almost 50 Clean Air Zone roadshows. From Hartcliffe to Fishponds, and Bristol Pride to the Harbourside Festival, we've spoken to over 2,300 of you already.
This face-to-face engagement has been really important in our preparations for the zone's launch as we know that we can't reach everyone through our usual channels – so we've been bringing the conversation to you!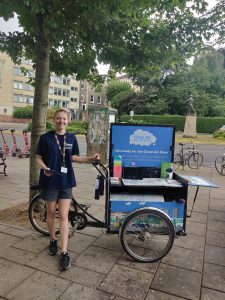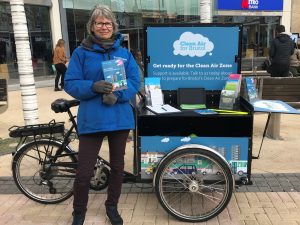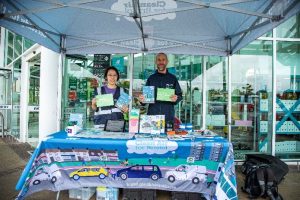 Our travel advisors are specially trained to give Bristol businesses and locals advice on getting around the city, whether for work or leisure. They're also fully up to speed on all things about the Clean Air Zone and have been helping roadshow attendees to
understand where the zone will be and how it will work
check vehicle registrations to see if they'll be charged
apply for financial support or exemptions
Travel advisors can also offer free travel planning advice at our roadshows. This means that, if you will be affected by zone or are looking for a change, they can help you find alternative routes or ways of travelling that work for you. Whether its by bus, bike or on foot, they can help you make the most of the free travel offers currently available to Bristol residents and workers.
Our November roadshow schedule is looking busy as we get ever closer to launch on Monday 28 November. Take a look at the full line-up on our events page to find one near you.
Remember, if you need help to get ready for the zone but are unable to make it to one of our events, email cazsupport@bristol.gov.uk to request a phone appointment with one of the advisors.