Bristol City Council's free electric vehicle (EV) hire scheme has been extended to include licenced Hackney Carriage drivers following a successful launch phase, as the city prepares for the Clean Air Zone in November (2022).
In March, the council launched a new scheme offering free trials of EVs to Bristol organisations to encourage them to switch to cleaner ways of travelling ahead of the zone launching on 28 November.
Businesses, charities, sole traders and other organisations have the chance to trial electric vans and cars for up to two months, to get a better understanding of the benefits and how EVs could work for them.
The free EV loan scheme, which is fully funded by National Highways, allows the council's fleet services team to purchase up to 64 vehicles in batches, with 12 currently on loan and 15 arriving soon. The vehicles will be available to loan to local organisations until March 2024.
From this month (September 2022), two of London Electric Vehicle Company's (LEVC) purpose-built electric TX taxis will be available to Bristol City Council licensed hackney drivers, for free loans of two to four weeks, as part of this scheme.
Councillor Don Alexander, Cabinet Member for Transport said, "I'm pleased to see our free electric van trial scheme has been hugely popular since its launch only a few months ago.
"More than 60 organisations have tested a van or car so far and had the chance to see what it's like to rely on electric: exploring things like battery range, charging point access and the cost of keeping these vehicles on the road. Many have told us the free loan has made them accelerate their plans to add EVs to their existing fleets.
"Taxis are an important part of our transport infrastructure in Bristol, so we're pleased to extend the free EV hire scheme to our licensed Hackney Carriage drivers. Getting a sense for the smooth ride and price of charging will present local drivers with a cleaner vehicle choice and the opportunity to help us reduce toxic air pollution which is so harmful to our health.
"We all have a role to play in Bristol getting cleaner air and although some petrol and diesel vehicles will be allowed in the Clean Air Zone, the EV scheme provides a helpful taster step for anyone thinking about switching to electric for their business."
Angela Halliwell, National Highways' Head of Carbon and Air Quality, said: "We are working with councils across the country to encourage businesses to make the switch to electric vehicles and we expect many more to start using electric vehicles when they experience the savings possible.
"We've invested £3.2 million in this initiative with Bristol City Council – a key example of how we are using designated funds to benefit the environment and communities around our roads as well as the people travelling and working on them."
Each taxi is driven exclusively by electricity but features an additional on-board generator (a small 1.5 litre petrol engine), which is known as a range-extender. This increases the number of miles that the taxi driver can travel on one charge from 64 miles to 318 miles, completely eliminating range anxiety. Featuring flexible space for up to six passengers, the TX includes an integrated wheelchair ramp and can accommodate a forward-facing wheelchair – the only taxi of its kind to do so.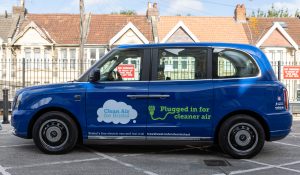 Patrick Masih, a local taxi driver, said; "I'm delighted to be part of this trial. LEVC is a very elegant, durable and strong vehicle. It is the way forward to improve our local air quality, reduce noise pollution and lower carbon emissions across Bristol. It is important that taxi drivers test LEVC in our current fuel crisis. Trying it out allows us to accurately reflect on the big decision and financial commitment of switching to electric vehicles."
Should the new taxis attract a very high number of free loan applications, the council will prioritise taxi drivers with vehicles which will not meet the emission standards of Bristol's Clean Air Zone or those whose vehicles are nearing the end of their working life.
Taxi drivers applying for a free electric taxi loan must operate at least one petrol or diesel vehicle and make frequent trips in and out of the city on the M32 or other motorways and major routes or travel regularly through the Clean Air Zone.
There is a waiting list of Bristol-based organisations already signed up to try an electric van or car. New applicants wanting to test vans or cars can expect their loans to begin in or after January 2023.
More information about the scheme and the application form can be found at www.travelwest.info/electrictaxi.
Bristol's free EV trials will help smaller organisations ease their transition away from more polluting vehicles taking these vehicles off the road both in the short term (after the Clean Air Zone is launched) and for the long term as businesses go on to invest in cleaner vehicles.
The initiative is among a host of schemes National Highways is investing in to improve air quality and tackle carbon emissions from road transport as the UK takes steps to become a zero-carbon economy by 2050.
The scheme has been made possible by National Highways' Designated Funds programme, which is designed to benefit people, the economy and the planet with an overall investment of £936m between 2020 and 2025.